Double Glazed Windows Guide US 2023
What are they and are they Worth the Investment?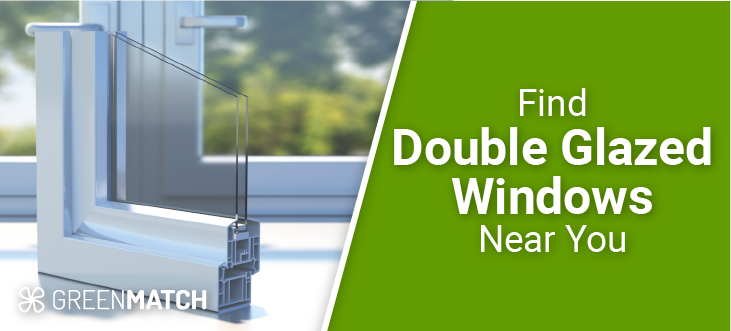 Are you looking for new double glazed windows? You're at the right place. We've prepared a comprehensive guide on everything you need to know about double glazed windows.
Double glazed, now more commonly known as double paned, windows are quite popularly seen in homes these days, as compared to single paned windows. Double glazed windows offer several advantages in terms of energy efficiency, thermal efficiency, and even noise reduction.
In this guide, we discuss what double glazed windows are exactly. A comparison of double glazed with triple glazed and secondary glazed windows will help you understand the difference. You can make an informed decision as to which would better suit your purposes and budget.
For your benefit, we have also discussed the different styles of double paned windows and the different materials used for them. The cost, along with the advantages and disadvantages of double paned windows will further help you understand whether these windows would work best for you or not.
Finding the right and reliable installer who would guide you through the buying and installation process and answer any questions you have is a tad bit difficult. GreenMatch makes it easier for you to find an installer. Click on the button below, fill out the form with the requested details, and we will match you with up to 3 certified, reliable installers. You can compare the quotes and decide if any are suitable for you. Our service is free of charge with no obligation.
Get Free Window Quotes Now
Fill in the form in just 1 minute
What are Double Glazed Windows?
Glazing basically refers to the glass or the panes of a window. A double glazed or double paned window is one that is set in a frame with two panes of glass. There is a gap between the two layers of glass that is either a pocket of air or filled with an intervening gas.
How does Double Glazing Work?
The two panes of glass are separated by a spacer bar, which keeps them a set distance apart. The spacer bar is filled with either an inert gas that is safe and non-reactive or air. The gases used to fill the gap between the two panes are usually argon, krypton, or xenon.
Argon is the most used gas between windowpanes and is affordable. Krypton is a gas that works best in thinner spaces, which is why it is more commonly used in triple glazed windows. Xenon is the most innovative insulating gas used for windows. It is also the most expensive of all and is not as popularly seen in residences as the other two.
The gap between the two panes of glass acts as an insulator, reducing heat loss and preventing cold air from entering your home. The insulating properties of double glazing keep your home warmer in the winter and cooler in the summer.
Windows with a High R-value…
R-values are a measure of the thermal resistance of a given material. In simple terms, R-values measure a material's resistance to energy transfer. You can use R-values to choose the windows with the right thermal resistance. The higher the R-values of a window, the higher the insulating value of a window.
Windows with just air pockets in between the two panes usually have lower R-values compared to those filled with insulating gases such as argon. The R-values of double glazed windows with air pockets usually carry R-values between 2 and 3. Double glazed windows with argon gas, on the other hand, carry slightly higher R-values, between 3 and 5.
Some manufacturers offer double glazed windows with an extra layering of a special low-E (low emissivity) insulating film. This low-E coating reflects the UV rays, protecting the interior of your home. The coating bumps up the R-value of a window, making it more energy efficient.
Double Glazed Vs. Triple Glazed and Secondary Glazed Windows
Triple glazing is like double glazing but with an additional pane of glass. Triple glazing is more expensive than double glazing but offers even better insulation and noise reduction. The extra pane of glass and the wider gap between the glass panes help reduce heat loss and noise transmission even more.
Secondary glazing involves adding a second pane of glass to the inside of an existing window. This can be a cost-effective solution for homeowners who want to improve their windows' energy efficiency and noise insulation without replacing them entirely. However, secondary glazing is less effective than double or triple glazing and may only be suitable for some types of windows.
Double Glazed Window Styles
There are several styles of double glazed windows to choose from, each with unique features and benefits. Take a closer look at some of the most popular double glazed window styles below.
Casement Windows
Casement windows are one of the most famous styles of double glazed windows. They are hinged on one side and open outwards, providing excellent ventilation and easy access for cleaning. It's available in various materials, including vinyl, wood, fiberglass, and aluminum. They are also available in various colors and finishes, so you can choose a style that complements your home's existing decor.
Single-Hung/Double-Hung Windows
Single-hung windows feature a single sash that slides upwards from the bottom, while the top sash remains stationary. Double-hung windows feature two vertically sliding sashes within a single frame. Both the top and bottom sash can be opened independently of each other. This allows greater control over the amount of ventilation and airflow in a room. Both these windows can be customized to suit your home's interior.
Sliding Windows
Sliding windows feature sashes that slide horizontally within the frame instead of vertically, like in single-hung or double-hung windows. They are easy to use with a simple sliding mechanism allows for easy operation. It is a great option for hard-to-reach areas or for spaces behind furniture or around other obstacles. Sliding windows are highly energy efficient if properly installed and maintained.
Available in materials such as wood, vinyl, aluminum, and fiberglass, these windows can be customized to appear in accordance with your existing interiors.
Picture Windows
Picture windows are perfect for bringing the outside beauty into your home. These windows are stationary and cannot be opened. They are more of a glass wall with no airflow to and from them, making them less energy efficient compared to walls. The larger glass area also means you will lose heat during cooler months and overheat the interior of your home during the summer.
Picture windows are available in various materials such as vinyl, aluminum, fiberglass, and wood. You can customize the style of the window to better suit your existing home décor.
Bay Windows
Bay windows are a classic style of double glazed windows that consist of three panels protruding from the wall, creating a curved or angled shape. These windows provide additional interior space, which can be used for various purposes. You could create a cozy reading nook, a spot for indoor plants, or even a small dining area, all the while enjoying plenty of natural light and a unique view of the outside world.
Bay windows are available in various materials, including vinyl, wood, fiberglass, and aluminum. They are also available in various styles, so you can choose a design that suits your home's architecture.
Bow Windows
Bow windows are like bay windows but with more panels. They consist of four or more panels that create a curved or angled shape. Bow windows are perfect for adding light and space to your home and are available in various materials like wood, aluminum, fiberglass, and vinyl.
Choosing from a wide array of styles of double glazed windows is difficult. Consulting certified installers can help you understand what style of window would go best and where. However, finding a reliable, trustworthy installer is just as difficult.
It requires hours of calling installers one by one and requesting quotes, which is quite a tedious task. GreenMatch can make the task easy and simpler for you. Click on the button below, fill in the required details and we will get you in touch with up to 3 certified installers and their quotes for you to compare. Our service is free with no obligation.
Get Free Window Quotes Now
Fill in the form in just 1 minute
Double Glazed Window Materials
Double glazed windows are available in several different materials. Below we have discussed the most popular materials used for double glazed windows you can choose from:
Vinyl (PVC) Windows
Vinyl or polyvinyl chloride (PVC) is a popular choice for window frames for its durability, low maintenance requirements, and affordability. Vinyl is a type of plastic that is resistant to moisture, rot, and insect damage. You can customize your vinyl double glazed windows in various colors and styles, to enhance the look of your home.
Wood Windows
Wooden windows give your home a classic look and feel that adds warmth and character. You can choose between pine, oak, and mahogany for your wooden double glazed windows. You can also have them painted or stained for customizing to better suit your home's existing décor.
Fiberglass Windows
Fiberglass has recently gained traction as a choice of window frame. Fiberglass double glazed windows are weatherproof and resistant to rotting, warping, or cracking. Since these are still gaining popularity, there are limited customization options available to you, but available, nonetheless.
Aluminum Windows
Aluminum double glazed windows are lightweight, strong, and durable, making them quite popular among homeowners. They are available in various colors and finishes that you can choose from to customize a window that fits your exact specifications.
Pros and Cons of Double Glazed Windows
Double glazing can be a great option since it involves two panes of glass separated by a vacuum or gas-filled space. However, like any home improvement, double glazing has its pros and cons. Let's take a closer look at them: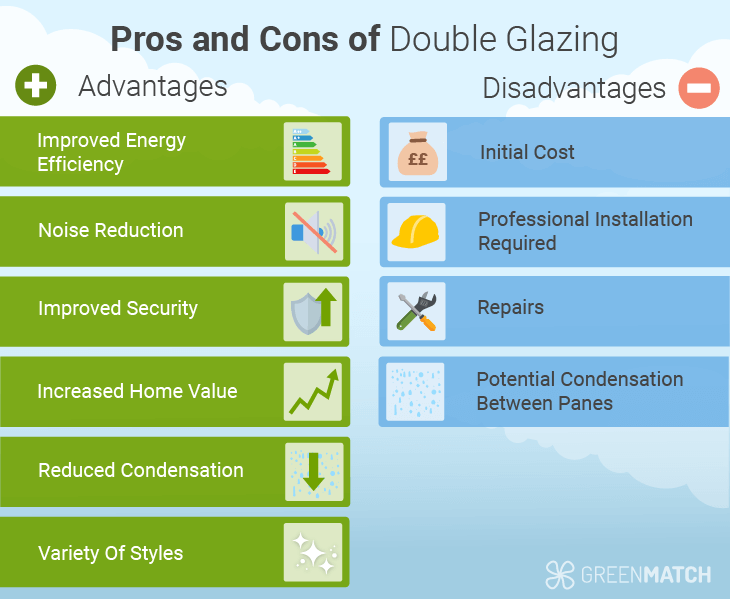 While there are benefits to using this option, it also comes with a higher upfront expense and may necessitate the services of a qualified professional for installation and maintenance. You should weigh the pros and cons before deciding, but double glazing is worth considering if you are looking to improve your home's comfort and value.
Get the Best Deal on Double Glazed Windows
Investing in double glazed windows is a great way to improve your home's energy efficiency and overall comfort. However, finding the best double glazed windows deal can be daunting, with so many options and prices to compare.
At GreenMatch, we can connect you with up to 3 certified installers in your area, providing you with accurate quotes so you can find the best double glazed windows deal for your home.
By comparing quotes from multiple installers, you can ensure you get the best possible price for your double glazed windows. Not only can you save money, but you can also ensure that you are working with reputable installers who will provide you with high-quality products and services.
Click the button below and fill in the form, providing us with some basic information about your project, and we will connect you with professional installers in your area. Our service is completely free with no obligation to accept the quotes you receive.
Get Free Window Quotes Now
Fill in the form in just 1 minute
Frequently Asked Questions