Windows Guide 2023: Types and Materials
Find the Best Windows Near You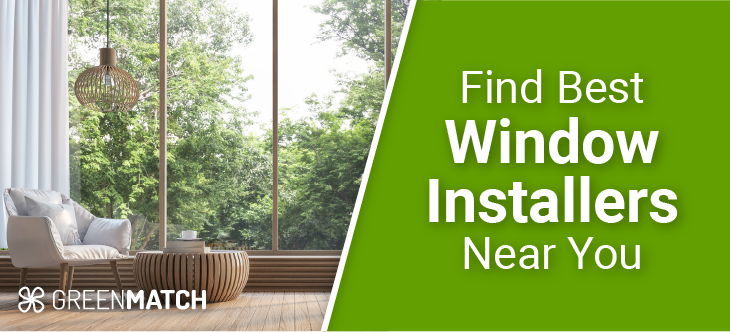 Are you tired of staring out of dull, outdated windows? You may consider replacing them, but maybe you're unsure where to start.
We understand that choosing new windows can be overwhelming. With so many alternatives available, it can be difficult to know where to begin. That's why we've compiled all the essential information into one convenient guide.
Whether you're looking to replace your windows for aesthetics or better energy efficiency, our guide has got you covered. We've included illustrations and detailed descriptions of all the different window styles, so you can easily find the perfect fit for your home.
An important step in any new window installation is to find the best window companies near you. Once you're ready for some new windows, it can be difficult to navigate the sea of window installation companies out there. The best way to ensure you're receiving a fair quote for installation is to compare prices from multiple installers.
This can certainly be a time-consuming process. It can also be difficult to know which installers will do a high quality job with high quality products. What's more, reaching them and getting the information needed is not always easy and fast.
That's where GreenMatch's exclusive quotes service can help you. Fill in the form, linked below, and we'll match you with up to 3 of the best installers for the job. We'll always ensure to match you with companies based in your area, so you can take advantage of their local rates.
Get started today by clicking the button below.
Get FREE Window Quotes Now
Fill in the form in just 1 minute
The Different Types Of Windows
Several windows are commonly used in modern construction and home design. Some of the most popular types of windows include.
Casement Windows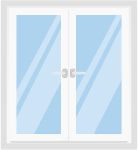 Casement windows are one of the most common types of windows found in residential and commercial buildings. They are characterized by the side-mounted hinges that allow them to open and close like a door. They can be single or double casement windows. Casement windows are also popular for their energy-efficient properties as they provide an airtight and watertight seal on all four sides (especially if they open inwards).
This design allows for a larger and unobstructed view. It will enable more natural light to enter a room than other window types. Casement windows are also popular for their energy-efficient properties as they provide an airtight and watertight seal on all four sides.
Most casement windows open outward and are operated by a small mechanical crank or handle positioned opposite the hinge. This handle or crank also functions as a latching mechanism, locking the window shut or securing it in place when open. Casement windows are also available in tilt-and-turn versions, which allow the window to open inward for easy cleaning and maintenance.
Therefore, casement windows are a great option for those looking for a window that provides ample natural light, ventilation, and energy efficiency. With various styles and materials to choose from, casement windows can fit into any design aesthetic and offer functional benefits to any space.
Double-Hung / Single-Hung Windows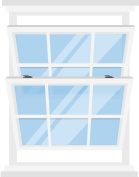 Double-hung windows are a type of window that features two vertically sliding sashes within a single frame. This means that both the top and bottom sash can be opened independently of each other, allowing for greater control over the amount of ventilation and airflow in a room. Single-hung windows are those that feature a single sash that slides upwards from the bottom, while the top sash remains stationary.
The design of these windows allows for easy operation, as the sashes can be moved up and down within the frame using a simple latch or pull.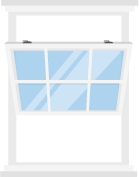 One of the main benefits of double/single-hung windows is their energy efficiency. These windows can provide a tight seal when properly installed and maintained, preventing drafts and heat loss. They are also popular for their aesthetic appeal, as they offer a classic and timeless look that can fit various design styles.
One of the major benefits of double-hung windows is their ease of cleaning. Since both sashes can be moved independently, it is easier to clean the inside and outside of the window without needing a ladder or special equipment.
Both these windows can be customized to fit any design aesthetic. Their energy efficiency and ease of operation make them a practical and functional choice for any space. If you're looking for a classic and practical window option, double-hung or single-hung windows may be the perfect choice for you.
Sliding Windows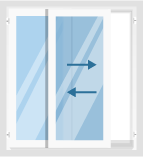 Sliding windows, sometimes known as gliding windows, are a sleek and modern option for those prioritizing space-saving functionality and a minimalist aesthetic. As the name suggests, sliding windows feature sashes that slide horizontally within the frame instead of vertically, like single-hung or double-hung windows.
One of the main benefits of sliding windows is their ease of use. The simple sliding mechanism allows for easy operation. It can be a great option for hard-to-reach areas or windows that are located behind furniture or other obstacles.
Another benefit of sliding windows is their energy efficiency. When properly installed and maintained, sliding windows can provide an airtight seal, preventing drafts and heat loss.
Bay Windows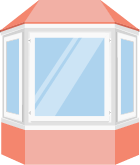 If you're looking for a window that adds elegance and functionality to your home, then bay windows may be a perfect choice. Bay windows are a type of window that extends outward from the wall, creating a unique and distinctive architectural feature.
One of the main features of bay windows is their ability to let in a lot of natural light. The bay windows' design allows light to enter the room from multiple angles, creating a bright and airy atmosphere. Additionally, the protruding design of bay windows provides extra space, making them a popular choice for those who want to create a cozy reading nook or add extra seating to their room.
Bay windows are also known for their energy efficiency. When properly installed and maintained, bay windows can provide an airtight seal, preventing drafts and heat loss.
Bow Windows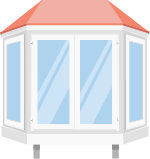 Looking to add a touch of polish and civilization to your home? If so, bow windows may be the perfect choice for you. Bow windows are a type of window that consists of multiple panels arranged in a gentle curve, creating a beautiful and distinctive design feature.
One of the main features of bow windows is their ability to provide a panoramic view of the outdoors. The gentle curve of the panels allows for a wide and unobstructed view, providing a sense of openness and spaciousness to any room. Additionally, bow windows can also create extra space, making them a popular option for those who want to add a cozy seating area or create a unique design feature.
Picture Windows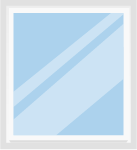 Are you residing in a scenic region? Do you want to capture the outer beauty from inside your home?
Picture windows are the perfect way to do that. They are unmoving, set windows that cannot be opened. They are more of a glass wall with no airflow to and from them. However, picture windows do offer an unobstructed view of the outside scenery.
Picture windows are also not as energy efficient as walls. The larger glass area will cause you to lose heat during cooler months and overheat the interior of your home during the summer. You may also find it difficult to clean the outside of the windows. Since the windows do not have mechanical openings, they are sealed weathertight.
However, window installation requires a skilled professional, as they are custom-made to fit the exact measurements of your home. But, once installed, they are known for their energy efficiency and ability to provide a tight seal, preventing drafts and heat loss.
Great! So, finding reliable and trustworthy window companies near you is crucial to getting the best from the different types of windows that can suit your home.
Then, choosing a company with a proven track record of quality installations and customer satisfaction ensures that your new windows will be installed to the highest standards.
Searching for "Window Companies Near Me" or "Window Replacement Near Me" may be a good place to start. However, there are a lot of options out there, and not all of them can guarantee a high quality job.
It can be difficult to know which installers are offering the fairest prices and the highest quality parts and labour. This is where GreenMatch can help.
Our dedicated team can find the best installers for your new windows, based on the details you provide in the form, linked below.
Don't settle for subpar windows or installation services – click now to find the top-rated window companies in your area!
Get FREE Window Quotes Now
Fill in the form in just 1 minute
Window Frame Materials
When it comes to deciding the right window frames for your home, there are several materials to consider, including vinyl (PVC), wood, and aluminum. Here's an overview of each:
Vinyl (PVC) Window Frames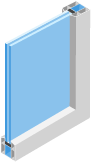 Vinyl window, made of polyvinyl chloride (PVC), is a popular choice for window frames due to its durability, low maintenance requirements, and affordability. Vinyl frames are made from a type of plastic that is resistant to moisture, rot, and insect damage.
They are obtainable in various colours and styles, making them a versatile option for any home. In addition, vinyl windows provide good insulation and energy efficiency, helping to keep your home comfortable year-round.
Wood Window Frames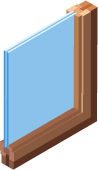 Wooden window frames have a classic look and feel that can add warmth and character to your home. They are available in various wood species, including pine, oak, and mahogany. They can also be stained or painted to suit your decoration.
Wood frames provide excellent insulation and energy efficiency, making them a significant choice for eco-conscious
homeowners. However, they do require semi-frequent maintenance, such as painting or staining, to protect against moisture and rot.
Fibreglass Window Frames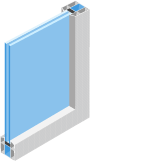 Fibreglass is a recent addition to window frames, which is why there are limited options when it comes to colours and designs. These windows are made from strands of glass fibres and resin woven together, making it a strong, durable material.
Fibreglass is weatherproof and resistant to rotting, warping, and cracking. Fibreglass windows are highly energy efficient and have excellent insulation properties. This allows you to enjoy comfortable temperatures in your home throughout the year.
These windows are gradually gaining traction, and becoming a popular choice among homeowners across the US.
Aluminium Window Frames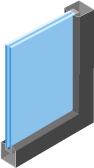 Aluminum frames are lightweight, strong, and durable, making them popular for modern homes' aluminum windows. They are available in various colours and finishes and can be custom-designed to fit your exact specifications.
Aluminum frames are low maintenance, corrosion-resistant, and provide excellent insulation and energy efficiency. They are also eco-friendly, as they are recyclable and require less energy to produce than other materials.
Remember, each material has its unique benefits and drawbacks. Vinyl frames are affordable and low maintenance, wood frames have a classic look and feel but require semi-regular upkeep, and aluminum frames are strong, durable, and eco-friendly. Choose the material that best fits your style, budget, and maintenance preferences to ensure you're happy with your window frames for years to come.
So, when choosing a window frame, it's essential to consider the type of window panes that will provide the best protection and insulation for your home. Make an informed conclusion and choose the right window panes to ensure the comfort and safety of your home.
Glass Types

To replace glass windows, it's essential to know the components of the windows, and the type of glass you choose, which can significantly impact your home's energy efficiency. Here are some of the most common glass types used in windows, along with their energy ratings:
Low-E Glass
Low-emissivity (Low-E) glass has a thin coating that reflects heat back into the room, making it a highly energy-efficient option. Low-E glass can be combined with double- or triple-pane windows to enhance their energy
efficiency further. The energy rating for low-E glass varies depending on the number of panes and the type of gas used between the panes.
Float Glass
Float glass is the normal, fragile glass that is made from molten glass. It is a flat, even glass and is the most basic type of window glass available in the market.
Annealed Glass
Annealed glass is the most basic type of glass. The difference between float and annealed glass is that it is created by allowing molten glass to cool slowly, resulting in a uniform thickness and smooth surface. It is often combined with other types of glass, such as Low-E glass, to improve overall energy efficiency.
Insulated Glass
Insulated glass is usually used for double-paned or triple-paned glass windows. The panes of glasses are separated by a separator bar, with argon or krypton gas filled in between. These gases make insulated glass windows more energy-efficient.
Tempered Glass
Annealed glasses are further processed glasses called tempering. This glass is heated up to 1200 degrees Fahrenheit and cooled down rapidly. This makes the glass even stronger, though not unbreakable. However, if broken, it breaks down into small dull pieces, eliminating the risk of you getting cut or jagged by the broken glass.
Obscured Glass
Windows with obscured glass are built with designs or features that enforce the privacy of your home. The glass allows
light to easily filter in but makes it difficult for anyone to see inside your home. These are typically used for bathrooms or any other area of your home where you require privacy.
Laminated Glass
Laminated glass consists of two layers of glass bonded together with interlayers, creating a strong and durable composite material. This type of glass can be customized to enhance its energy efficiency or acoustics, depending on the thicknesses, the different combinations of glass or coatings, and the type of interlayer used. One of the notable benefits of laminated glass is its increased safety features, as it remains intact even when broken, providing an additional layer of protection against break-ins or accidents.
The Best Window Deals
We understand that searching for the perfect installer can be time-consuming and stressful. That's why we're here to help you find the best deal without any hassle.
We offer a free service that allows you to collect quotes from different installers without any obligation to start. By comparing quotes from diverse companies, you can ensure you get the most reasonable value for your money. You could even save a lot of money in the process.
Our service is easy to use and completely free. Just click the button below to get started and receive the best windows installation quotes. With our help, you can make an informed decision about your home improvement project and achieve the look and comfort you desire.
Take advantage of our free service today and start your journey towards a more beautiful and energy-efficient home.
Get FREE Window Quotes Now
Fill in the form in just 1 minute
Frequently Asked Questions