Doors for Your Home: Your Complete Guide to Types and Materials
What Type of Doors Are Best for Your Home?

Doors in your home serve many purposes: from aesthetics to safety, to saving energy and thereby helping the environment. Whether you opt for uPVC doors, aluminum doors, or wooden doors, there are many factors to consider in your decision-making process when buying and installing a new door. Your front door is not merely an entrance to your home, but also gives a strong first impression.
There are many energy-saving solutions for your doors in the US, so you do not need to forsake style for environmentally friendly benefits. This means you can install double-glazed front doors that are aesthetically pleasing, yet safe, secure, and energy-efficient.
Read our guide to help you make your choice on which doors are best for your home. Different types of doors will be better suited for certain areas in your house, so do not limit yourself to one specific type.
If you are looking to install doors in your home, simply fill in the form above and GreenMatch will help you by providing up to four quotes from trusted suppliers in the US. This service is completely free and non-binding.
Get Door Installation Quotes Now
Fill in the form in just 1 minute
Different Types Of Doors For Your Home
Most homes in the US have two different types of doors: exterior doors and interior doors. Both these doors serve their own unique purposes and have their own unique styles.
Exterior doors: Almost every home in the US have exterior doors which are designed to provide privacy, security, insulation, and protection from external weather. For this reason, they are usually built with sturdier materials than interior doors, such as wood, fiberglass, or steel.
Interior doors: Interior doors, on the other hand, are used more as a separator of different areas within your home, and to add privacy. These doors, however, do not need weatherproofing and hence are built with lightweight materials such as wood or glass. These doors either have a solid core or a hollow core.
There are several different types and styles of doors that are used for both exterior and interior doors. Our guide provides you with an overview of each of these types and styles of doors.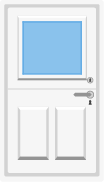 Dutch Doors
Dutch doors are a classic design, with a horizontal division that divides the door into two parts. This allows you to open the top half independently of the bottom half. Dutch doors are often used as back doors or kitchen doors. These doors are perfect if you have kids and pets, allowing you to keep them safely inside while enjoying the fresh air at the same time.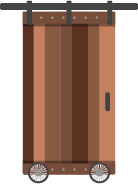 Barn Doors
Meant to be outside doors, barn doors are rustic-styled sliding doors that slide along a track at the top. These doors are usually made of wood and are often seen in farmhouse-style homes. Barn doors certainly add an appeal to your home, especially since they can be used as an interior door. These doors see their use popularly for kitchens, hallways, or bathrooms.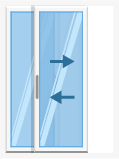 Sliding Doors
Sliding doors are quite commonly used as exterior doors, such as patio doors. However, they can also be used as room separators inside your home. These doors slide horizontally along a track and are usually made of wood, steel, or aluminum, with a single, large glass pane.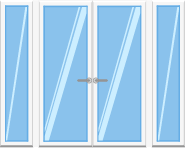 French Doors
French doors are a timeless, classic style of doors. They are typically made up of two doors that open outwards and are largely made of glass panes. French doors are often used as exterior doors, for patios or balconies.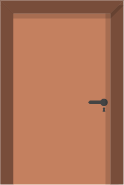 Flush Doors
Flush doors are smooth, flat doors with no decoration or design. These doors are generally used as interior doors but can also be used as exterior doors. They are typically made of a solid core or hollow core and are often painted, stained, or can even be decorated with wallpaper.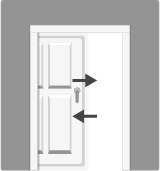 Pocket Doors
Pocket doors are sliding doors, but unlike sliding doors, these disappear into a hollow cavity or a pocket within the wall. These doors are perfect for tight spaces or if the door can interfere with other elements of your room. Pocket doors are a great way of saving space in your home.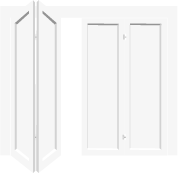 Bifold Doors
Bifold doors are a type of doors that open towards you in an accordion style. As they fold the doors simultaneously slide open. Bifold doors are generally used for laundry rooms, closets, or kitchens. These doors are generally for the interior and very lightweight, but bifold doors made of wood or steel are sometimes used as exterior doors as well.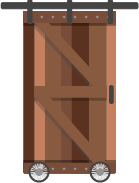 Battened & Ledged Doors
Battened and ledged doors are made of vertical boards that are held together by horizontal battens and ledges. These doors are often seen in rustic or traditional-style homes or are used to throw a rustic appeal to your home. Battened & ledged doors can be used as both interior and exterior doors.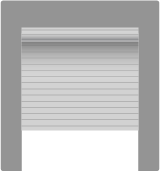 Roller Doors
Roller doors are made up of slats that roll up and down along a track onto the ceiling. These doors are generally used as exterior doors for garages. However, these doors can also be used as separators in your home. They are also a great way of saving space since they roll up onto the ceiling when opened.
So now you know all about the different types and styles of doors that are out there for you. What next?
Now comes the time when you have to find a door installer, to provide you with quality door/s that fit in your budget. Your next step will be to call installers one by one, contact several companies that sell doors and request quotes. This takes up hours of your time and is quite a tedious task.
GreenMatch is here to help. We can help you find the right installer for you. All you have to do is simply click on the button below and we will get you in touch with up to three trusted door installers with their quotes to compare. Our service is free with no obligation.
Get Door Installation Quotes Now
Fill in the form in just 1 minute
Different Types of Door Materials
You now know the different styles of doors that you can have in your home. What about the door material?
There are different materials that the doors can be made from. Some of the most common materials include wood, steel, glass, aluminum, and fiberglass. For your better understanding and ease in choosing the best material for your doors, we have briefly discussed these materials below.
Wood Doors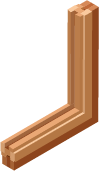 Wooden doors are a classic style that oozes natural beauty and warmth. You can use various types of woods such as oak, mahogany, or pine for your door. Wooden doors are highly customizable, they can be stained, painted, or decorative details added according to your liking. These doors are long-lasting and durable and provide good insulation. Wooden doors at value and appeal to your home.
However, they are expensive compared to other door materials such as fiberglass or aluminum. Wooden doors can warp or crack over time, especially if you are living in an area with extreme weather conditions. This also makes wooden doors susceptible to rot, decay, or wood-boring insect damage if they are not maintained properly and regularly. You may have to invest in regular maintenance of wooden doors such as having them repainted, stained, or sealed.
Steel Doors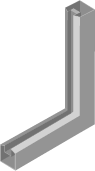 Steel doors are quite a popular choice for homeowners with a modern or contemporary-styled home. They are usually used as exterior doors, but some homeowners may also use steel doors for reinforcing security inside the home. These doors are built with steel panels on either side, reinforced with a synthetic core. Steel doors are strong, durable, and resistant to warping, cracking, or splitting. The synthetic core offers insulation, making your steel doors highly energy efficient. They offer a good measure of security and protection against fire hazards. Steel doors are comparatively affordable.
Although strong and practically weatherproof, steel doors can dent or scratch. This can only add to them being less aesthetically pleasing compared to wood or glass doors. Steel is a metal, hence conducts heat and cold, which may affect the energy efficiency of your door. You also have limited customization options and colours to choose from.
Glass Doors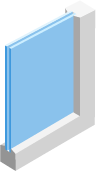 Glass doors are basically a large pane of glass framed in wood, steel, or aluminum. Glass doors are perfect if you want to enjoy plenty of natural light and enhanced visibility of the outside scenery. Glass doors definitely add a modern and sleek appearance to your home, not to mention the various glass customizations you can go for. You can have decorative glass installed, tempered, frosted, etc. Glass doors are also very easy to clean and maintain.
Glass doors, however, are not as energy efficient as other door materials. They also limit your security and privacy as they can shatter and break easily. Glass doors may prove to be expensive, especially if you're going for high-end
customizations or high quality and specialized glass. The doors also call for regular and frequent cleaning and maintenance in order to prevent clouding or other damage to the glass surface that might end up obscuring your view.
Aluminum Doors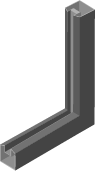 Aluminum doors are usually used as exterior doors but can be used as interior doors as well. These doors are strong and durable, not to mention resistant to rust, corrosion, and warping. Aluminum doors are pretty lightweight and easy to install. Aluminium has insulating properties, which makes them energy efficient. One more benefit is that you have a variety of colours and styles to choose from.
Compared to wood doors, aluminum doors offer poorer soundproofing. Compared to most other door materials, aluminum offers less insulation. Being a metal, aluminum conducts heat and cold, which may affect its energy efficiency. Aluminum doors may prove expensive, especially if you choose to go for high quality or customized finishes.
Fiberglass Doors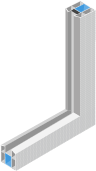 Fiberglass doors are made from reinforced polymer made of glass fibers bonded with resin. This makes for a strong, durable door that is resistant to warping, rotting, and insect infestation. Fiberglass doors offer good insulation and energy efficiency. They are easy to clean and maintain. They can be customized in a variety of colours and finishes, making them look just like a wooden door if you want.
Fiberglass doors may prove expensive if you go for high quality or high-end customizations. Moreover, the customized colours and paints are susceptible to fade or discolour over time. This calls for regular maintenance, which may include staining, painting, or even sealing. These doors can also be heavy and hence, difficult to install.
Compare Door Installation Costs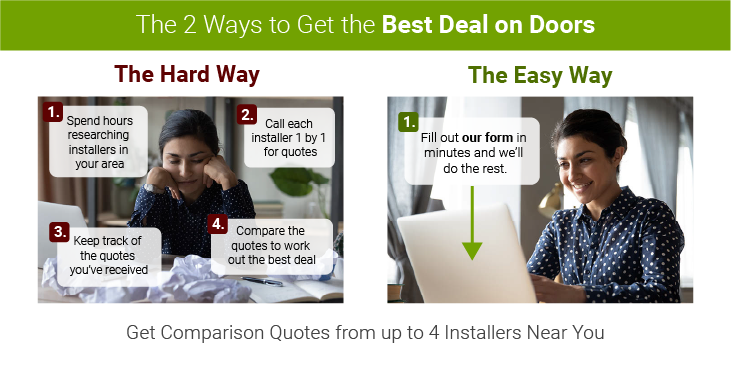 Comparing quotes gives you an idea of what each installer is offering. There are likely to be differences between the cost and features that are offered from one installer to another. Requesting quotes from multiple installers, local or national, can help you understand who would best fit for your requirements, and most importantly your budget.
Requesting quotes, however, is a lengthy, tedious task. You will be sitting for hours on your phone, calling installers, explaining your requirements, and requesting quotes. GreenMatch can make this hours-long task simpler for you. All you have to do is click on the button below, fill out the form and we will get you in touch with up to three certified installers and their quotes for you to compare. Our service is free with no obligation.
Get Door Installation Quotes Now
Fill in the form in just 1 minute
Frequently Asked Questions