Commercial Solar Power: A Complete Guide
Is Installing Commercial Solar Power Worth it?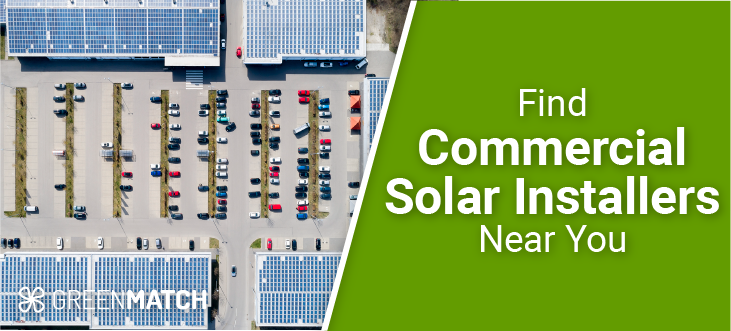 The use of solar energy for power generation has seen significant growth in recent years. One can say that government tax credits and generous incentives that you receive for going solar are one of the major motivators behind the growth. Commercial solar power, however, is still catching up with the pace of residential solar use. The commercial is one sector where the solar market is slightly lagging behind.
What is commercial solar power?
Commercial solar panels, also commonly known as 'Commercial & Industrial-scale solar (C&I), like residential solar panels, are photovoltaic panels that absorb sunlight for power generation. These are mostly grid-tied solar systems, that are in turn used to power office buildings, schools, warehouses, factories, and more. Commercial solar is usually opted by businesses, government agencies, schools, and nonprofit organizations.
One of the major hiccups that the solar market is facing in convincing them to switch to using solar power is the high upfront cost. No doubt switching to solar power can prove expensive initially, but note that it can help save on energy in the long run. Taking it up with commercial solar installers can help you understand the pros and cons of going solar better.
Finding the right, certified installer is definitely a challenge. You might end up spending hours of your time calling one installer after the other in your quest to find the right one. You will be explaining your requirements, requesting quotes and then sit and compare each quote. GreenMatch can make your task much simpler. Simply click on the button below, fill out the form, and we will get you up to 3 free quotes from certified installers to compare. Our service is free with no obligation.
Fill in the form in just 1 minute
How Commercial Solar Power Works?
Commercial solar works pretty much the same way as residential solar panel systems do. The commercial PV panels get activated when solar cells or the PV cells on the panels absorb sunlight. This phenomenon charges the PV cells and produces an electric current.
The electric current generated is direct current (DC), which cannot be used to power appliances or buildings. Appliances and buildings run on alternating current (AC). So, the electric current generated then goes through the inverter where the DC is converted into AC.
Commercial inverters are available at different power levels, ranging from 2.5 kW to 250 kW. These inverters can meet all types of commercial requirements. Additionally, inverters for single and three-phase lines with auto voltage detection help minimize energy loss during the conversion of DC to AC.
The electricity then passes from the inverter to the electric panel at the breaker board of the building, from where it is then distributed to individual electric loads throughout the building.
If your state offers net metering, you may want to install a smart meter that records the inflow and outflow of energy. Net metering will allow you to get credit for the excess power generated by your solar system. Moreover, during the days when your system has generated less power, for example, during cloudy days, you can use the grid power.
Advantages of Commercial Solar
Commercial solar power comes with its fair share of advantages. The benefits of installing a commercial solar power system are as follows:
Cost-Effective
Small businesses spend nearly $60 billion every year on energy bills across the US. Large businesses, government agencies, schools and more would only be spending more. The financial benefit is one of the major advantages of installing a C&I solar panel system. It not only helps you save on energy bills but also reduces electricity bills. Moreover, solar systems work efficiently for anywhere between 15 and 25 years. This means that even after you break even the high upfront cost of a solar system, you will continue to generate electricity.
Environmental Sustainability & Brand Image
Conventional energy generation leaves you to release thousands of tons of carbon dioxide into the environment, causing extreme climatic damage. Going solar will allow you to reduce your carbon footprint on a large scale, approximately 1,000 metric tons.
Along with reducing your carbon footprint, it also enhances your brand image. People today are highly conscious and support climate preservation. Your business or propaganda will receive a positive outlook by going solar, as it showcases your commitment to environmental sustainability.
Financial Incentives and Rebates
Installing a commercial solar power system makes you eligible for the federal tax credit under the federal solar investment tax credit (ITC). Several states have net metering that adds to the financial benefit that have over the
30% federal tax credit. You can also check for incentives and rebates at the state level that you may be eligible for. Moreover, installers also offer rebates on sales tax and other services.
You can check with different installers for the services and offers they have. This will require you to call certified installers one by one and request quotes. GreenMatch can reduce this hours-long lengthy process to a simple click. Fill out the form, explain your requirements, and we will match you with up to 3 certified installers and get their quotes to compare. Our service is free with no obligation.
Cost of Commercial Solar Panel Systems
The cost of commercial solar panel systems depends on several factors, such as system size, number of solar panels required, location of the installation, etc. Compared to residential solar panels, commercial solar panels are fairly larger, both in size and the amount of energy it produces. A solar panel used for residential purposes typically consists of 60 to 72 photovoltaic cells. A commercial solar panel, on the other hand, comprises 96 photovoltaic cells. Moreover, a residential solar system could be 5 kW or higher, max of up to 12 kW system. A commercial solar panel system could possibly start from a 50 kW system.
Considering this fact, the cost of a commercial solar system is fairly high. However, the higher the upfront cost, the greater the ROI on your investment. It's hard to get a price for a system that is highly subjective, but we can definitely get a range for small and large-scale businesses. Typically, a commercial solar system may cost small-scale businesses around $100,000 while it may cost around $1 million or more.
Note that the cost is an average price calculated based on our research. For more accurate prices, it would be advisable to contact certified installers and get a quote.
Ways of Installing Commercial Solar Panels
Installation of residential solar systems is simpler, as it more or less takes place on the roofs. With commercial solar systems, things get complicated as the system to be installed is on a much larger scale. It requires a large amount of space that can fit the system, and in a way that it works effectively and efficiently. Commercial solar systems can be installed in different ways, making effective use of the available space you have:
Rooftop Installation
Almost all businesses, government agencies, schools or factories would have buildings or offices with a rooftop. As a business, you have the option of installing either a flat rooftop or a slanted rooftop system. Depending on the type of roof you have, you can have either of the two installed. However, it is important to note that installing a solar system supported by a stand will mean attachments to your rooftop. It would be advisable to check and confirm if the construction of your rooftop will be able to withstand a stand-supported solar system.
Ground Mounted Systems
Ground mounted systems are arrays of solar panels mounted on the ground. These are usually large-scale systems or are installed in cases where businesses do not have sufficient rooftop space to match the power needs. If they have sufficient land available, it can be used to size and match a solar system for the businesses' power needs. These systems are usually mounted atop metal framing or over pole mounts for elevating the panels higher off the ground.
Tracker Systems
These solar tracking systems are specifically designed to maximize your solar system's electricity generation. The tracker systems are usually used for ground mounted or free-standing installations such as solar trees. These systems are designed in a way where the solar panels move and adjust to capture maximum sunlight, at the right angle. The angle at which sunlight meets the PV panels is known as the 'angle of incidence'. The minimum the angle of incidence, the more your PV panels produce energy. These panels move and adjust so that the sunlight falls perpendicular, minimizing the angle of incidence, as possible.
Solar Carports/Canopies
If you're someone who likes to stay up-to-date with the latest in solar technologies, you much already have heard about solar carports or canopies. This is a way of solar system installation where you can make effective use of your parking space. These solar panels not only allow you to make use of your parking areas for economic power generation but also provide shaded and covered parking spots. These systems are mounted on metal framing just like on rooftops but are elevated enough to provide car parking space underneath. These carports also offer ease in cleaning and maintenance of your solar system.
Consulting a commercial solar system installer might help to find the most suitable way to install a commercial solar system for your business. GreenMatch can get you in touch with up to 3 certified installers and their quotes to compare. Simply click on the button below and fill out the form. Our service is free with no obligation.
Fill in the form in just 1 minute
Difference between a Residential and Commercial Solar Power System
Whenever you hear the word solar, the first image that pops into your head is probably a rooftop of your or your neighbor's home with solar panels attached. Well, it's not your fault. Residential solar systems are more popular and commonly known in the solar world than the C&I solar systems. But then you might wonder, it's solar after all so what is the difference between the two. Well, C&I systems differ from residential solar systems in the following ways:
Size
One of the major differences between a commercial solar power system and a residential solar system is the size of the panels and the system itself. Residential systems are usually fitted with PV panels comprising 60 to 72 photovoltaic cells. A commercial solar system, on the other hand, is made of 96 photovoltaic cells. The panels are much larger than residential panels as the need for power generation is also much higher compared to homes.
The system size for a residential system usually is between 4 kW to 12 kW. A commercial solar system is at least 50 kW. It may go higher depending on factors such as the size of the business or the office and the need for power generation.
Installation
The installation of the systems is pretty much the same process. The site inspection is carried out, measurements taken, permits requested, equipment arrives, and finally the installation. However, a residential solar installation may take a few hours to a maximum of one or two days. However, commercial solar system installation is on a much larger scale, with a lot more ground to cover, literally. Hence, installing a commercial solar system may take up to a month or more.
Cost
One of the most obvious differences between residential and commercial solar systems is the cost. A residential solar system may cost a homeowner between $16,000 to $20,000, whereas a commercial solar system may cost anywhere between $100,000 to $1 million depending on the size of the business.
However, each system can benefit in the long run and save on energy bills.
Find the Best Commercial Solar Power Installer Near You
Installing a commercial solar power system is no small decision. It requires meticulous planning, all the right permits and documentation, and a trustworthy partner who can provide you with proper equipment. Finding such a partner or an installer is a tough job. You will be spending days on the internet or over the phone, researching and contacting each installer, explaining your requirements, and getting their quotes to compare. Each installer will have different incentives and rebates to offer, solar manufacturers' products, and services.
Sifting through tons of quotes and coming to a decision can be time-consuming and mind-boggling. GreenMatch can help you make your task simpler. Simply click the button below, fill out the form detailing your requirements, and we will do the grunt work for you. We will get quotes from up to 3 certified installers that best fit your requirements to compare. Our service is free with no obligation.
Fill in the form in just 1 minute
Frequently Asked Questions