Solar Panel Price Guide 2023
What is the ROI on Solar Panels and are they Worth it?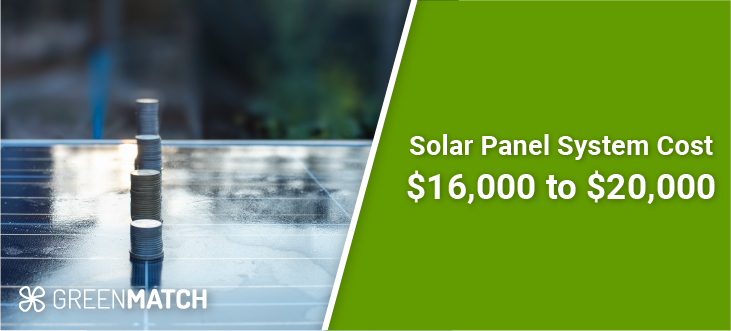 Solar panel (PV) systems, on average, cost somewhere between $16,000 to $20,000. These systems are becoming increasingly popular among homeowners throughout the US. If, like many, you're considering installing a solar system for your home you would have many questions. The question is how much the PV system costs to you. Furthermore, would your investment be worth it, and how much return on investment would you get on your solar system?
Each of these questions is valid, especially when you're on a budget. However,  if you're determined to go green, use renewable energy and reduce your carbon footprint, then you're in the right place. Solar energy is a completely renewable energy that will not only reduce your carbon footprint but will also help you save on energy bills.
There are, however, a lot of factors associated with the installation of a solar panel system and its cost. The cost can differ based on the manufacturer, the solar company, among others. It would be advisable to get a few quotes and compare them to find the one most suitable for you.
To get quotes, you'll have to engage hours of your time in contacting one installer after the other, explaining your requirements, and requesting quotes. GreenMatch makes this process easier by getting you quotes from up to three certified installers. All you have to do is click on the button below, fill out the form, and you'll have your quotes to compare.
Get FREE Solar Quotes Now
Fill in the form in just 1 minute
Factors Affecting the Price of Solar Panels
Solar panels are generally said to have a higher upfront cost. There are several factors that play a role in the actual cost of a solar panel. Below, we have explored these factors to help you make an informed decision regarding installing a solar system in your home.
Electrical Needs
Your electrical needs are one of the major factors that will determine the cost of installing a solar panel system in
your home. The number of panels, and battery storage system (if you choose to have one installed), all depend on the amount of energy consumption of your household. If you have heavy load equipment such as an electrical heating system, air conditioning system, etc., the number of solar panels installed will increase. You will also require battery storage with higher kilowatt per hour power.
Location and Sunlight Exposure
If you are living in a rural area or where grid connectivity is difficult or unavailable, you will have to opt for a PV system that comes with a battery storage system. This will affect the cost of your system. Secondly, if there is limited sunlight falling on your home, it may affect the amount of solar energy that the panels can absorb and convert into electricity.
Type of Panels
There are three types of solar panels, of which monocrystalline and polycrystalline panels are most commonly used for residential homes. Monocrystalline panels are made of a single silicon crystal while polycrystalline panels are made of multiple silicon crystals.
The build makes monocrystalline panels more efficient and expensive compared to polycrystalline solar panels. Moreover, many homeowners prefer monocrystalline panels because of their sleek, uniform black appearance, which looks aesthetically pleasing compared to other types of panels. Hence, if you choose to install monocrystalline panels, it may add to your expenses.
System Size
The size of your solar panel system is another determining factor for the overall cost that you would incur. If you have a large household with high electrical needs, the size of your system would be relatively larger, which means high cost. However, if your electrical needs are relatively basic, you wouldn't need to install a larger system with a greater number of panels. This will automatically reduce the overall cost you would incur.
Tax Credits & Net Metering
Should you choose to install a grid-tied, it would mean that you will be able to benefit from net metering. Net metering is a system that allows you to earn money from the excess energy generated by your solar system. The amount of excess energy generated goes back to the grid, which gives you credit on your energy usage.
The federal government also gives you 30% tax credits on your energy bills for going green under the 'Residential Clean Energy Credit'. Additionally, each state provides their own solar incentives, which you can find in the Database of State Incentives for Renewables & Efficiency (DSIRE).
Cost of Solar Panels by Type
There are three main types of solar panels: monocrystalline, polycrystalline, and thin film solar panels. Of the three, monocrystalline panels are the most efficient and expensive. Below we have given an overview of the cost of each of the panels per watt along with their life expectancy and efficiency rates.
| Panels | Cost Per Watt | Efficiency Rate | Life Expectancy |
| --- | --- | --- | --- |
| Monocrystalline panels | $1.00 – $1.50 | 17% to 20% | 25 – 30 years |
| Polycrystalline panels | $0.70 – $1.00 | 15% to 17% | 22 – 25 years |
| Thin film panels | $1.00 – $1.50 | 10% to 13% | 12 – 15 years |
The cost per watt is just for the material, with efficiency rates and life expectancy average numbers based on our research. The panels may not necessarily stop working completely beyond the years mentioned above, however, their efficiency may certainly decrease. This will result in you incurring higher energy bills instead of saving on them.
As discussed above, several factors play a role in the final, overall cost of installing a solar system. Installers can help you determine the actual cost you will incur for installing one. However, the cost may differ from one installer to another as well. This means you'll have to spend hours on the phone, calling one installer after the other and requesting quotes based on your requirements.
GreenMatch can make this task easy for you. Simply click on the button below, fill out the details and we will find up to three best, certified installers for you. You can then compare quotes and choose the one that fits best. Our service is free with no obligation.
Get FREE Solar Quotes Now
Fill in the form in just 1 minute
What is the ROI on Solar Panels
According to the Energy Information Administration (EIA), a typical American family spends anywhere between $1,400 to $1,500 a year on energy bills. Installing a solar system, is estimated, to cut down your energy bills by an average of 70%. However, factors such as the area you live in, your overall energy consumption, and the local climate may affect how much you save on energy bills.
Although installing a solar panel system may have a higher upfront cost, it can prove to be beneficial in the long run. Depending on the amount you've spent on installing a solar system, it may take anywhere between 5 and 8 years to break even on your investment.
What is Net Metering and How Is It Beneficial?
Many states offer net metering, which is a system where any amount of excess energy generated by your solar system is sent back to the local grid. You are given a credit for the amount of energy sent back to the grid on your utility bill.
Your digital meter records the amount of electricity consumed and the amount sent back. You pay for the net amount of energy used, that is the difference between energy used and energy sold back to the local utility grid.
Find the Best Solar Panel Installers
Comparing quotes for solar panels is a beneficial practice, especially if you're new to the process. Installers offer solar panels from different manufacturers, each of which cost different. Moreover, depending on the local area, the cost of installers may differ. If you choose to go with a national solar company, it may only add to the cost. Installers may also have different offers from one another, which makes it important to compare quotes from several before coming to a decision.
This, however, involves you spending hours of your time on phone calls, calling, and explaining your requirements to each installer and requesting quotes. Once done, you sit and compare the quotes trying to find the one installer that best fits your requirements. GreenMatch can make this process easier and simpler for you. All you have to do is click on the button below and fill out the form. We will get you up to three best matches of certified installers and their quotes for you to compare.
Frequently Asked Questions