Ductless Mini-Split Air Conditioners: An Alternative to Traditional Cooling
Types of Ductless Mini-Split Air Conditioners & are they Worth it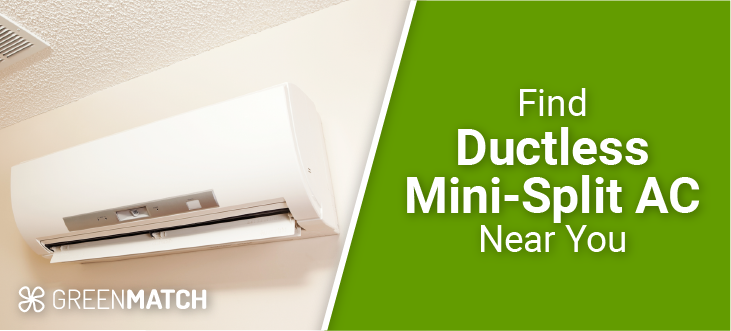 Ductless air conditioners are a great alternative to traditional central air conditioning systems. These systems do not require the complex ductwork system that is essential to a central AC. Also known as ductless mini-split systems, their popularity is growing in homes across the country. These systems are similar to split systems, except you have individual control over the indoor units installed in different areas of your home.
Ductless systems are ideal for homes where the extension or installation of ductwork is difficult. These systems can also be added in addition to an existing heating system such as wood/propane heaters or radiant panels. Just like split systems, ductless mini-split systems have an outdoor unit and an indoor unit. The difference is that they're smaller in size and are easier to install. These systems require a maximum of a three-inch hole through the wall for connecting the outdoor and indoor units.
Finding out whether installing a ductless mini-split AC system in your house would be beneficial or not is a good question. And the answer to which can be better provided by certified AC installers. They can assess your cooling needs, and the area of your home, and calculate for you if installing this system is beneficial for you. Then again, finding a trustworthy, reliable installer is also a good question.
This may require you to call different installers, explain your requirements, get their assessments and quotes, and then sit down to compare each. It takes hours of your time to conclude as to whom to hire. GreenMatch can make this task simpler for you. Click on the button below, fill out the form, and we will do the rest for you. We will match you up with up to 3 certified, reliable installers and get their quotes to compare.
Fill in the form in just 1 minute
How do Ductless Mini-Split Air Conditioners Work?
Ductless AC systems work exactly like a central air conditioning system, only without ducts. In a central system, the indoor unit is usually installed in the attic or closet. It operates by passing the warm air from your entire home to the outdoor unit and flowing back cool air into your home via ducts. The temperature of your entire room is uniformly maintained by this process.
In a ductless mini-split system, each room or zone in your home has an individual indoor unit. You can set the room/zone temperature individually. Hence, each indoor unit cools the room based on this set temperature. It pulls the warm air from that particular room/zone and sends it to the outdoor unit with the condenser and compressor. In
turn the outdoor passes on cool air to the individual indoor unit for cooling the room. Hence, ductless systems cool your home or a particular room/zone without the use of complex ducts.
Types of Ductless Mini-Split Air Conditioners
There are two main types of ductless mini-split conditioners, which are single-zone and multi-zone multi-split systems. Below we have briefly discussed these two types of ductless air conditioning systems for your better understanding.
Single-Zone Ductless Mini-Split System
A single-zone ductless mini-split system is typically used for cooling a single room or zone of your home. It consists of an outdoor unit connected to a single indoor unit. You can use the single-zone ductless system for cooling bedrooms, home offices, or small living areas of your home. In a ductless AC system, the indoor unit is generally mounted on a wall and offers separate control over cooling from other systems. You can also have your indoor unit floor or ceiling mounted to better suit the remaining décor or design of your room.
Since these systems are ductless, it reduces up to 30% of the energy loss that is generally associated with a central air conditioning system. Hence, these systems are more energy efficient compared to other AC systems and lower your energy bills. Since these units can be installed individually, you can use them for cooling a single room or zone in your room. If living in an area with mild climates, you may be able to skip installing a cooling system for your entire home, saving on the high cost involved with installing such a system.
A ductless single-zone system is quite smaller in size, making it easier to install and less complicated without all the complex ductwork. It also occupies less space, since it is either wall, ceiling, or floor mounted, and operates quietly compared to other air conditioning systems.
Multi-Zone Ductless Mini-Split System
A multi-zone ductless mini-split system is typically used for cooling multiple rooms or zones of your home. It consists of a single outdoor compressor unit that is connected to several indoor units. Each indoor unit is used for cooling a different area or room of your home, with individual control over each unit. A multi-zone split system is ideal for larger homes, with multiple areas or zones that require cooling.
So multi-zone system offers customized comfort since each unit can be controlled separately, meaning each room or zone can have a different temperature set to cool at. They are equally energy efficient having no ductwork required. Moreover, energy consumption is limited to the rooms or zones in which an indoor unit is running, saving on energy bills as well.
Moreover, you have the flexibility to add or remove indoor units as and when required. Hence, the system is quite scalable without the need for extensive modifications to your existing ductless system. Individual control over setting temperatures in different rooms or zones is another major advantage of installing a multi-zone ductless split system.
Are Ductless Mini-Split Air Conditioners Worth it?
Ductless air conditioning systems come with their advantages over other traditional AC systems that have prevailed over the years. The answer to the question of whether installing a ductless mini-split system would be worth it depends on the advantages it offers to you and your individual preferences.
As we know from our discussion on single-zone and multi-zone split systems, these air conditioners are highly energy efficient. They compartmentalize energy consumption and reduce your energy bills in the long run. The zone-based cooling system gives you freedom over customized cooling in your home.
It offers individual control over each room or zone as far as cooling is concerned, which is not an option with a central air conditioner. Moreover, you also have the option to scale the existing system as and when needed. Being smaller in size, a ductless AC system is less complex and easier to install.
On the downside, you may have to incur a higher upfront cost initially if compared to a traditional window AC. However, this is easily covered through the long-term energy savings that a ductless system offers. If you want a completely discreet system, then that might be a tad bit difficult to achieve with a ductless mini-split system since the indoor unit is either wall, ceiling, or floor mounted.
Like any other air conditioning system, ductless systems require regular maintenance too. You may have to regularly clean the filters and schedule check-ups with a certified installer. One important thing to note about a ductless AC system is that these systems might not be worth it if you are living in an area with extreme climate conditions. You may have to check if the system provides both heating and cooling or not.
All in all, ductless air conditioning systems can be worth it especially if energy efficiency, zoned cooling, easy installation, and individualized control align with your priorities. They are particularly beneficial if installing the ductwork required for a central AC is impractical or expensive for you.
Assessing your need and priorities can help determine whether installing a ductless AC system would be worth it for you or not. You can always consult a certified HVAC installer, explain your situation and requirements, and have them assess your cooling needs and other factors. You can request quotes and compare them to see who best fits your requirements and budget.
This, however, is a lengthy process which involves you calling several installers and requesting quotes. With GreenMatch, you simply click the button below, fill out the form, and we will match you with up to 3 certified, reliable HVAC installers. Our service is free with no obligation.
Fill in the form in just 1 minute
Frequently Asked Questions