Windows Cost Guide 2023
Replacement Window Cost by Type and Material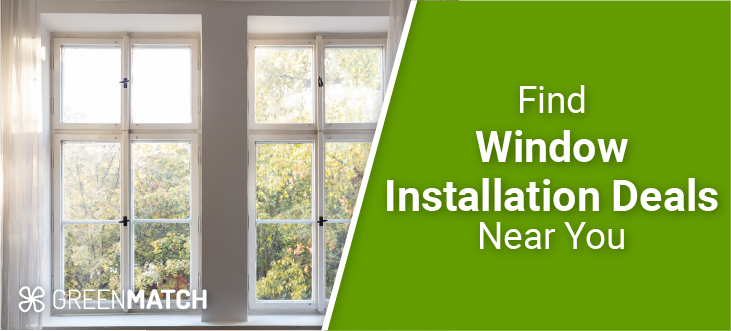 Windows are an essential part of your home. They not only add aesthetic appeal but also provide security among a host of other benefits. As a homeowner, you may come across the need to replace windows in your home due to a multitude of reasons. Broken panes, damaged frames, and loss of energy efficiency among others can be why you need your windows changed. Adding new windows to your home before selling can also be one of the motivations for replacing old, worn out, or damaged windows.
Replacing windows can increase the resale value of your home, giving you a good return on your investment. But then the question is, how much does window replacement or installation cost? To help you make an informed decision, we have prepared this guide. We have included the average cost of installing windows by type and materials used for the window frames. We have also included the average cost of double and triple paned windows.
The cost of windows, by type, material, or panes, may differ among window installers and even manufacturers. If you're unsure or are contemplating what type and materials to use for your windows, consulting a certified window installer can give you the nudge in the right direction. However, finding a reliable and trustworthy installer is a difficult task. You need to find an installer who has the required experience, and expertise, and is willing to answer any questions you may have.
This hunt for a reliable, trustworthy installer usually involves you calling installers one after the other, explaining your requirements, and requesting quotes. This is a very lengthy and tiring process. GreenMatch can help you find up to 3 certified installers. Click on the button below, fill out the form, and we will get up to 3 quotes for you to compare.
Get Free Window Installation Quotes Now
Fill in the form in just 1 minute
Factors Affecting the Cost of Windows
The average cost of installing windows may range between $300 to $1000 per window. The variation in the price range is affected by several factors. Below, we have discussed these factors briefly to give you a better understanding and make an informed decision.
Materials
The materials used for replacing your windows can play a major role in determining the price of your windows. Wood windows are the most elegant and give your home a traditional appeal. However, wood windows are the most expensive of all. It is not only the material but also the repairs and regular upkeep that add to the overall cost of the windows.
Vinyl windows are considered to be the most cost-effective window material because of its low-maintenance and weatherproof properties. Moreover, vinyl windows can give the look of a wood window that allows you to give your home the aesthetic appeal of a wood window. Aluminum is usually a cheaper option too, however, being a conductor of heat makes it a less energy efficient option. Moreover, aluminum windows are more popular with industrial and commercial buildings than residences.
Style
The style of windows you choose also affects the price of your window. Casement is the least expensive style of windows. The price varies among other window styles, with bow or bay windows being the most expensive of all. In other words, the bigger and more elegant the style of your window is, the higher the cost.
Installation
Window installation is a task that requires precision and expertise. You have the option of going for a DIY window installation or hiring someone who offers the service at a cheaper rate. However, this might end up costing you more. If the windows aren't installed correctly, you may face several issues such as drafts, leaky windows, water damage, etc. If you go for a professional installer, this may cost you more compared to installing the windows yourself or hiring an installer at a cheaper rate.
Size
The size of your windows also plays a role in deciding the cost of your window installation. The smaller the size, the lower the prices. The bigger the windows get, the higher the prices go. If you opt for a picture window in your living room that is large enough to cover almost the entire wall, it may be the most expensive.
How much does Windows Cost?
The cost of the windows, as discussed above, is dependent and varies according to a lot of factors. Below we have discussed the cost of windows by style, materials, and panes of glass used in the windows.
Cost of Windows by Style
| Window Style | Average Cost |
| --- | --- |
| Casement | $369 – $1,150 |
| Single-hung | $220.8 – $1, 319.4 |
| Double-hung | $288 – $1627.5 |
| Sliding | $389.2 – $1,838 |
| Picture | $343.5 – $1,166.33 |
| Bay | $933.67 – $4246.67 |
| Bow | $1,020 – $4,445.8 |
Casement windows are the simplest style and cost the least. As the style and design of windows get more complicated and elegant, the cost of windows goes higher. The number of sashes, materials used, and customizations involved vary based on the style you choose. Bow windows have up to 5 sashes, which require more materials compared to the simple, traditional casement windows. Hence, bow windows would cost more compared to casement windows.
Cost of Windows by Material
| Window Material | Average Cost |
| --- | --- |
| Wood | $440 – $1,958 |
| Aluminum | $193.2 – $999.2 |
| Vinyl | $242 – $1,081.8 |
| Fiberglass | $375.4 – $1,398.6 |
Materials play an important in determining the cost of windows you are planning to install. As we can see above, wood windows, which give your home the traditional look, are the most expensive. The most cost-effective option is vinyl windows. Aluminum and fiberglass windows are also cost-effective, depending on your preferences and budget.
Cost of Windows by Glass Panes
| No. of Pane | Average Cost |
| --- | --- |
| Single pane | $125 – $400 |
| Double pane | $421 – $985.67 |
| Triple pane | $433.33 – $1,166.67 |
The number of glass panes plays a role in determining the cost of your windows. Single pane windows, which are almost out-of-date now and rarely used, cost the least. Double pane, or double glazed windows have two panes of glass, with air or insulating gases filled in between. These windows would cost more than single glazed windows as they are more energy efficient compared to single glazed windows. Triple glazed windows have three panes of glass and provide better thermal insulation and energy efficiency than double glazed windows, making them the most expensive. Note that these prices are the average cost per window based on our research.
The style, material, and panes of your windows all depend on your requirements and budget. You can consult a certified window installer to make an informed decision regarding what type of windows you can install in your home. Finding the right window installer is a difficult task, which requires you to call several installers, explain your requirements, and request quotes.
GreenMatch can make the task simpler for you. Click on the button below and fill out the form. We will match you with up to 3 certified installers and get their quotes for you to compare. This will allow you to explore several viable options at the same time and go through the different offers that each of them has for you. You can then go on to select the one that suits your requirements or not select either. Our service is free with no obligation.
Get Free Window Installation Quotes Now
Fill in the form in just 1 minute
Frequently Asked Questions